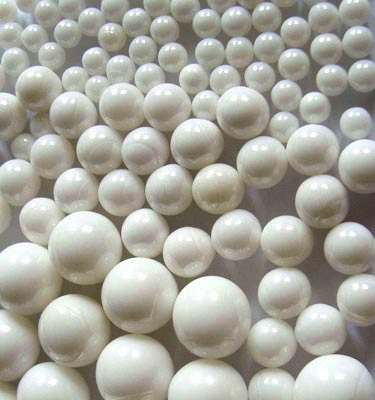 YTZ zirconium oxide grinding balls
Regular price
SFr. 190.00
Sale price
SFr. 190.00
Regular price
product description
Shipment
customer rating
Planetary ball mills require grinding media that are characterized by a very high level of hardness and impact resistance. In this way, the grist is not contaminated with abrasion from the mill and the grinding balls. In addition, these very hard balls ensure that the grinding efficiency and quality are as high as possible. The finer the grinding result, the smaller the grinding media should be. It is often advisable to choose the grinding media from large to smaller in different steps. In this way, powders can be refined down to the nanoscale. Powders that are ground with planetary mills have a grain diameter about 1000 times smaller than the grinding media used. Our grinding balls are doped with yttrium oxide to further improve the hardness and service life compared to pure zirconium oxide.
The following sizes are available as standard: 0.15mm, 0.5mm, 1mm, 2mm & 10mm (tolerance approx. 5-10%, spherical). Various other sizes are available on request, we can offer you grinding balls made of other materials such as tungsten carbide, silicon nitride, agate, etc. on request.
Please note: The grinding balls have a high density of approx. 6g/cm3, contain 1 kilogram of balls a comparatively small volume.
Shipping
The shipping costs are included from 79CHF. This will be shown in advance at the time of purchase.
delivery terms
We only deliver to Switzerland and Liechtenstein. We only deliver by mail. Unfortunately, a self collection of the products is not possible.
delivery time
We keep most of our items in stock. These will be sent to your address by Swiss Post on workdays 48 hours after receipt of the order. Non-stock items are generally marked as such and will be delivered within 2 - 8 weeks. If you have any questions, our customer service is available on weekdays from 9 a.m. to 4 p.m. on +41 32 510 96 96 or at info@labmaterial.ch available.