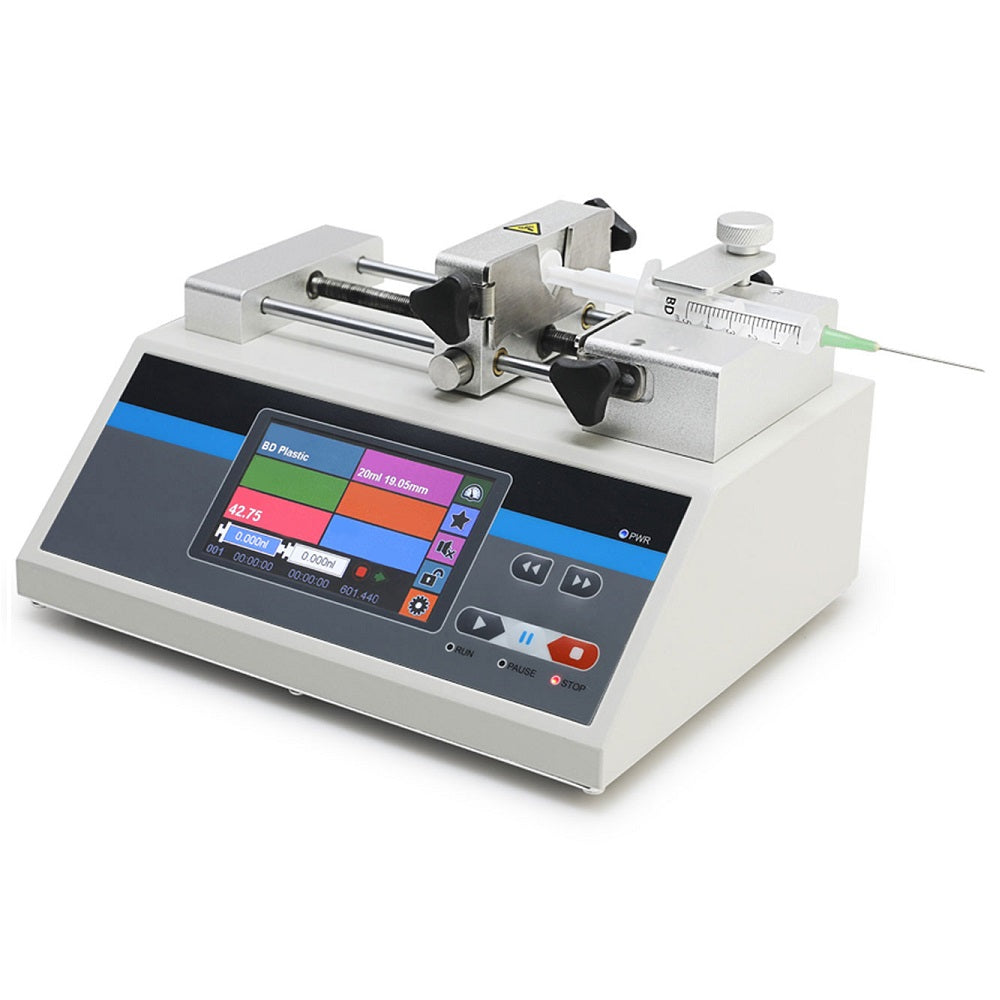 Regular price
SFr. 2,290.00
Sale price
SFr. 2,290.00
Regular price
SFr. 2,690.00
product description
Shipment
customer rating
Our contemporary syringe pumps can be operated easily and conveniently via a large, colored touch panel. Thanks to the adjustable syringe holders, the devices can be adapted to almost any type of syringe. The very powerful and at the same time highly precise dosing unit allows very large conveying areas to be covered. The pumps are very robust and have a stainless steel housing. It is also possible to control the devices via an external interface.
Syringe sizes: 10 microliters - 60 milliliters (depending on the syringe type)
Holder for almost all syringe types thanks to ingenious, variable adjustment
Number of conveyor channels: 1
Maximum conveyor length: 110 millimeters (forwards / backwards)
Linear conveying range: 0.2 micrometers/min - 30 millimeters/min
Maximum conveying resolution: 0.031 micrometers/conveying step
Conveying precision (linear, continuous): ≤0.35%
Maximum conveying force: ≥16kg
Automatic detection of blockages, excessive resistance with alarm message
Colored touch panel (4.3 inch)
Most important main functions via additional buttons for quick operation
External control: RS485, MODBUS protocol
Dimensions: 245x195x140 mm
Weight: approx. 3.2kg
Electrical voltage: 100 - 240V 50/60Hz
Electrical power consumption: approx. 20W
Operating range: 5 - 40°C, max. 80% relative humidity
Attention: Our syringe pumps are not certified for human medicine. Under no circumstances may they be used on humans for medical purposes.
Typical conveying parameters with different syringe types:
Shipping
The shipping costs are included from 79CHF. This will be shown in advance at the time of purchase.
delivery terms
We only deliver to Switzerland and Liechtenstein. We only deliver by mail. Unfortunately, a self collection of the products is not possible.
delivery time
We keep most of our items in stock. These will be sent to your address by Swiss Post on workdays 48 hours after receipt of the order. Non-stock items are generally marked as such and will be delivered within 2 - 8 weeks. If you have any questions, our customer service is available on weekdays from 9 a.m. to 4 p.m. on +41 32 510 96 96 or at info@labmaterial.ch available.