knowledge blog
Revolutionary cleaning with ultrasonic cleaners: Efficient and thorough
by Michael Loepfe on Feb 10, 2023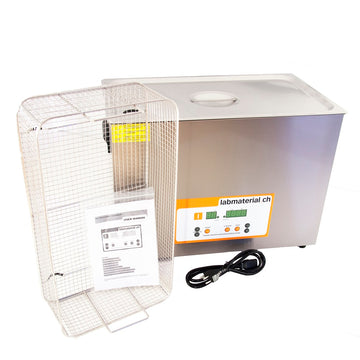 Ultrasonic cleaners are a revolutionary cleaning devices that allow for efficient and thorough cleaning in many areas. The application of ultrasonic waves removes dirt and contaminants from even hard-to-reach areas without requiring a lot of effort. This makes them ideal for cleaning tools, metal parts, dental instruments, or engine parts.
When it comes to cleaning tools, ultrasonic baths are particularly effective. The vibrating ultrasonic waves reach even the smallest corners and gaps where dirt and oil can accumulate. Cleaning is quick and easy, and the tool will be back to a new-like condition in no time.
Ultrasonic cleaners are also a great help in cleaning dental instruments. Here, it is important that the instruments are thoroughly cleaned to ensure hygienic use. Ultrasonic baths remove even stubborn dirt and bacteria, and the instruments will be hygienically clean again.
Another application area for ultrasonic baths is the cleaning of engine parts. Here, they are particularly practical as they can clean thoroughly even in hard-to-reach areas. In addition, they are gentle on the parts and prevent damage that can occur with manual cleaning methods.
Since their introduction into industrial cleaning, ultrasonic baths have established themselves as an indispensable tool. For optimal cleaning of tools, metal parts, dental instruments, or engine parts, specific settings are usually recommended. The ideal water temperature is between 50-60°C, while a good soap can be used for cleaning in a dilution of 1:20 to 1:100. A sound duration of 1-10 minutes should be sufficient for thorough cleaning.
It is important to adjust the settings individually to the cleaning requirements. However, Labmaterial GmbH always offers professional support and advice to achieve the best possible cleaning result.
Labmaterial GmbH is a Swiss company that stocks ultrasonic baths and can sell them directly to customers. As a Labmaterial GmbH customer, you can rely on receiving a high-quality product that meets the highest standards. The company is known for its high quality and good customer service, and you can be sure that you will receive professional support at any time for any questions or problems.
In summary, ultrasonic baths are an indispensable tool for cleaning tools, metal parts, and dental instruments.
Click for our extensive selection of high-quality ultrasonic cleaners.